Australia undoubtedly tops the list when we talk about studying abroad and getting settled in thriving urban cities filled with excellent career opportunities and an incredible lifestyle. Every year thousands of students opt for Australia as their country of study, work, and permanent settlement.
The beautiful landscape, along with some of the top world-class universities and the strong economy, are just some of the attractive factors to be fascinated by what the country has to offer. Today's article explores the idea of settling in Australia after completing your education and the process of obtaining an Australian Permanent Residency visa or PR for Australia.
What is Australian Permanent Residency?
Permanent Residency or PR in Australia allows a non-citizen to work, study and reside in the country while enjoying all the rights like an Australian citizen without any restrictions. Whether it's Medicare, the government health scheme, or the Higher Education Loan Program (HELP), they can access a long list of facilities.
The visa allows you to stay and travel anywhere in the country freely with your family for three years, after which you can apply for citizenship. PR Australia even makes you eligible to apply for government jobs and to enjoy social security benefits. The Australia PR visa comes with a validity of 5 years.
Opportunities For Students
When international students come to Australia for their studies, most of them find the country so worth living that they wish to settle here permanently. For such individuals, Australia offers various paths to obtain a visa and serve the country with their knowledge and skills.
Therefore, it is crucial to consider your area of studies keeping in view the future aspects and job demands in the economy. Age, language skills, qualifications you have gained in the country, experience and other factors also aid in attaining the Australia PR points to get the visa.
How To Get PR After Student Visa In Australia?
The SkillSelect Migration program by the Department of Immigration and Board Protection of the country lets you apply for a visa after completing your course from the Australian University. The candidate has to apply at the online portal related to their work preference. So, This submission of Expression Of Interest allows you to choose the field of your interest and skills.
You will ask to provide your detailed personal information, nominated occupation and work experience, English language proficiency skills, and business and investment experience knowledge. Candidates from age 16 to 49 can apply.
The government issues a Skilled Occupation List of highly demanded jobs in the economy every year. If your occupation is not on the list, you will need sponsorship from the government or an employer. Skills assessment and English Language testing will still be required.
Popular Visa Options For International Students
International students are provided with a golden opportunity to apply for a Permanent Residency in Australia . And visa via Work-Stream Permanent Residence Visa options. So, The popular visa options allow students to apply for the job which suits . Their skills and is required by the Australian economy.
You can apply for any of the following visa options:
Skilled Independent Visa (subclass 189)
A student who has graduated in Australia and is not sponsored by their relative or employer And is not nominated by the government should apply for it. However, It is an Australian PR points test visa for skilled graduates from the age of 18 to 49. So, You are assess and evaluate to check the criteria for the selected occupation.
Skilled Nominated Visa (subclass 190)
If a government agency has nominated you, this visa is for you. Excelling the Skills assessment test is the primary criteria as it proves that your skills match the nominated occupation.
Skilled Regional Visa (subclass 491)
For this visa, you will need a sponsorship, excel the skills requirement, or receive a state or territory agency nomination.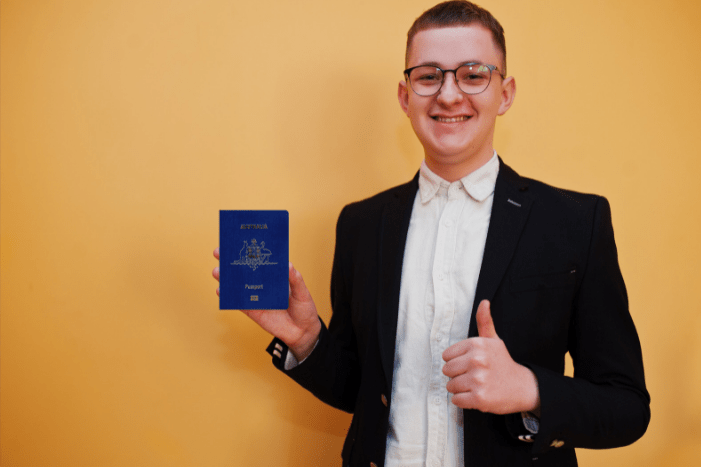 How Long Does It Take To Get PR In Australia For International Students?
An international student can apply for a PR visa after completing study. Their 2 years of studies in the country under subclass 485. However, the visa processing time differs from applicant to applicant. So, The Immigration department suggests the time of around 8 to 12 months for the Australian PR as certain factors are consider exclusively.
Some of such factors include:
The nature of your application profile
Number of applications submitted for visa
Details on your application form
Any ups and downs in the documents
Other inquiries made by an Australian immigration department
Improve Your Chances
To make sure that you are the first choice by the government for a PR visa Australia. Moreover, you need to tick the following boxes on your list.
After completing your graduation stay in the country and so, gain as much work experience as you can.
Polish your English language skills while living under Temporary Graduate Visa.
Complete a Professional Year Program (PYP) which is structure for advanced learning and development. Similarly, The more experience you gain in the trending fields like accounting, computer science, and engineering, the better for you.