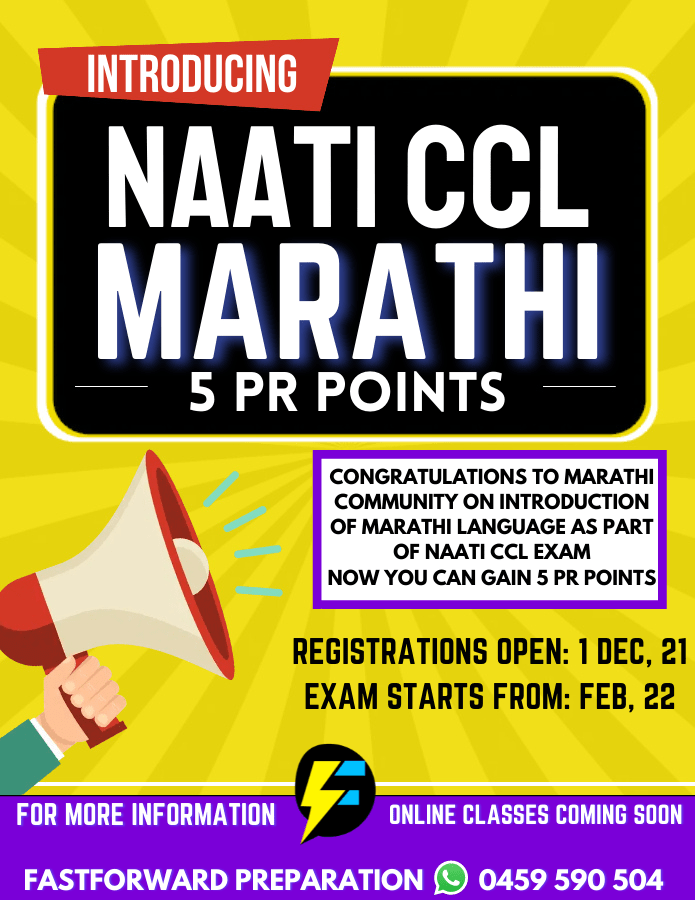 NAATI CCL Marathi
NAATI CCL Marathi is a new language included in the NAATI CCL Exam.
The test will be structured similarly to the regular NAATI CCL exam and award 5 points for permanent residency in Australia via the 189 and 190 visa streams.
Students fluent in Marathi should take the NAATI CCL Exam in that language to take advantage of this opportunity.
Fastforward preparation is excited to be a part of your planning process. Our online courses and study materials will assist you in earning 5 PR points from NAATI CCL Marathi.
Preparation:
NAATI CCL Marathi preparation will be aided through Fastforward Preparation. For CCL Marathi, we will provide online lessons, study materials, sample exams, and date booking help. Our NAATI CCL Marathi teacher is a skilled Marathi interpreter and translator with over five years of experience as a professional who will assist you in the preparation process. Getting ready for the NAATI CCL We've created and curated authentic NAATI Preparation material with the aid of Marathi interpreters and specialists.
Our training program follows the same structure that has led to over 1000+ students succeed across 8 different languages.
The addition of Marathi to the NAATI CCL would provide a fantastic opportunity for any Marathi-speaking students who wish to live in Australia permanently.
With the aid of our professional tactics and training, you may go to 5 PR points in no time. Online one-on-one or group training is available. 3000+ NAATI CCL Marathi vocabulary materials and around 70+ Marathi practice conversations designed just for NAATI CCL Marathi.
Keep an eye out for additional details. Our WhatsApp contact button may be used to reach us.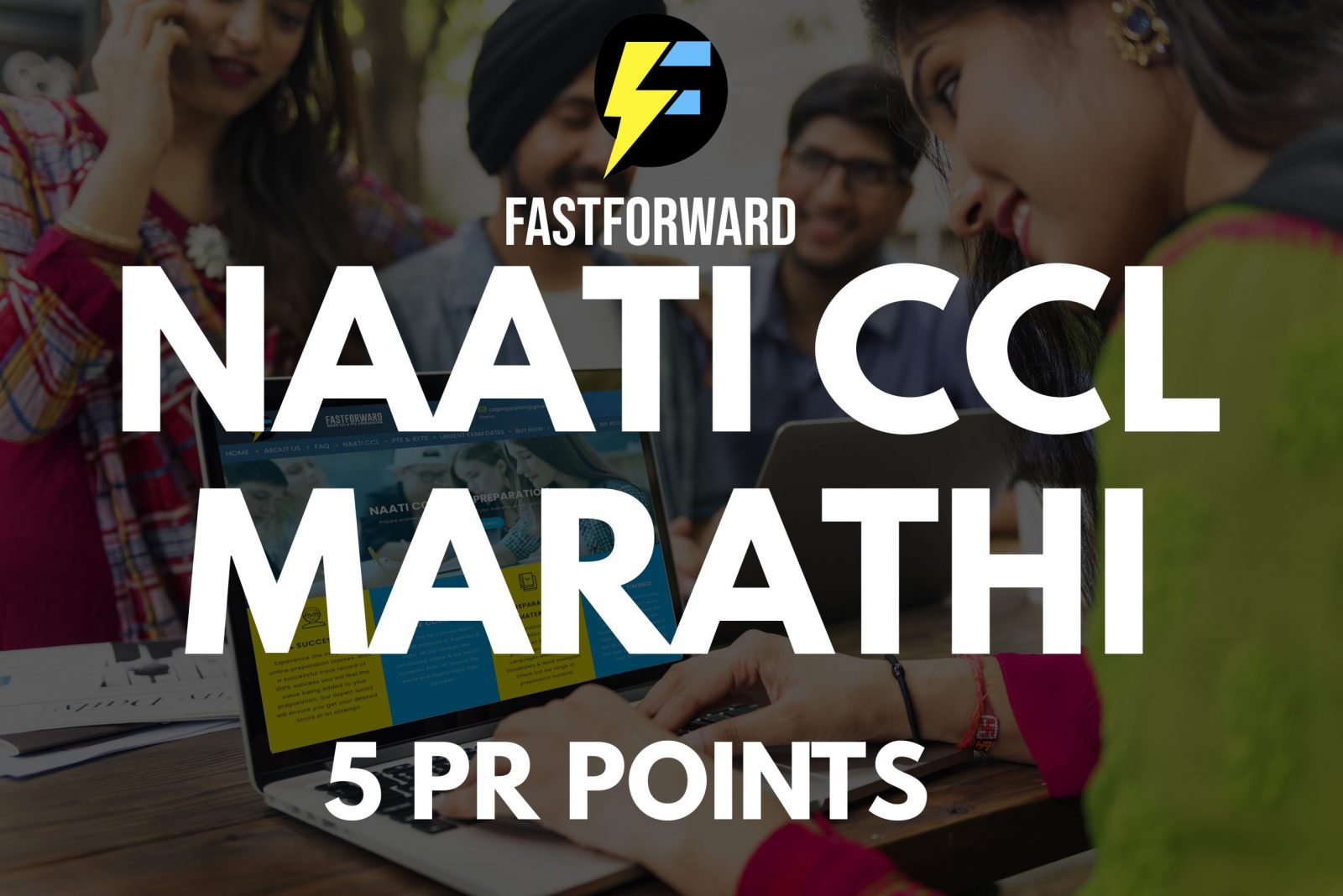 NAATI CCL Marathi is the newly introduced language as part of NAATI CCL Exam. NAATI is expected to start conducting CCL exam for Marathi language by end of 2021 with currently no announced start date for this exam. The exam will follow the pattern of the standard NAATI CCL exam & will provide 5 points towards Australian Permanent residency through 189 & 190 visa streams.
Students who are proficient in Marathi language should attempt their NAATI CCL Exam in Marathi language to make the most of this opportunity. Fastforward Preparation will be happy to be a part of your preparation journey. Our online courses & preparation kits will help you achieve 5 PR points from NAATI CCL Marathi.

Preparation

Fastforward Preparation will be assisting with NAATI CCL Marathi preparation. We will be offering online classes,preparation material, mock tests & date booking assistance for CCL Marathi.

Our NAATI CCL Marathi tutor is a professional interpreter & translator in Marathi language with over 5 years of experience as a professional and will guide you as part of the preparation process.

Preparation for NAATI CCL Marathi will require consistence practice & authentic NAATI Preparation material which we've prepared and curated with the help of Marathi interpreters & professionals. Our training course follows the same pattern which has been the secret of success for over 1000 students across 8 languages.

Addition of Marathi language to NAATI CCL will offer a great opportunity to all Marathi speaking students who aspire for Australian permanent residency.

Fastforward to 5 PR points with the help of our expert strategies & training. Get online one on one or group training. Practice using 3000+ NAATI CCL Marathi specific vocabulary resources & over 70+ practice dialogues in Marathi prepared specially for NAATI CCL Marathi

Stay tuned for more information. You can get in touch with us using our Whatsapp contact button.